by Hannah Burt
Exhibition games are fantastic, they will make you stand out and help you engage with visitors. Attending an exhibition is a big investment in both time and money so it's important you make the most of it. An exhibition is your opportunity to put your brand in front of its target audience, so how can you make sure you get it right?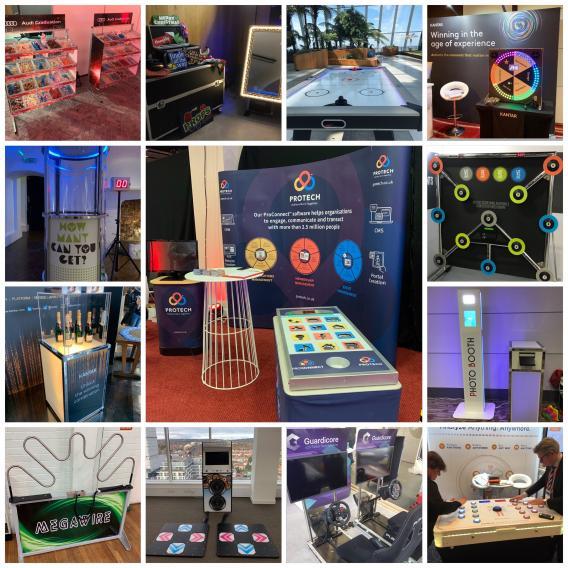 At an exhibition it's likely you will be surrounded by competitors all looking to capture the attention of visitors, so you need to make sure your exhibition stand is the one that catches their eye. Many visitors have limited time and lots they want to see when attending an exhibition, so an exhibition game is a great way to add some fun and interaction, it will help get you noticed and make an impression.
But what is an exhibition game and how can it work for your trade stand? Here are some top tips when thinking about hiring exhibition games.
Target audience – different exhibitions games appeal to different audiences. It's important to get the right exhibition game for your audience otherwise they won't want to interact.
Available exhibition space – there are lots of exhibition games available to hire but you can't include an exhibition game if you don't have space for it. What space do you have available? There are lots of different options from small exhibition games to large exhibition games.
Branding – exhibition games can be branded to include your company logo/design so when looking for an exhibition game look at the branding options as this makes the game bespoke for you.
If you are reading this article its likely you have been looking on Google for some inspiration for exhibition games so here is a selection to start with. For a bigger selection of exhibition games take a look at our full range of exhibition games that you can hire.
Crack the Safe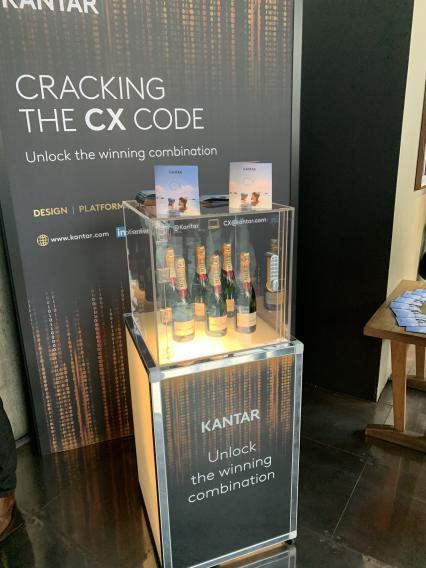 Crack the Safe makes a big impact in a small space, so thinking about those points above this one is perfect if space is limited. This exhibition game only requires a footprint of 0.6m x 0.6m making it one of our smallest exhibition games.
Crack the safe is a clear box that stands on a stylish podium which can be lit up with LED lights. The Safe itself is a clear box and its contents can be seen from all angles, making it perfect for displaying a product or prize. The only way to open the safe is to enter the 4 digit code correctly. Codes are unique and can be set to your choice so only you will know the top secret combination.
As with most of our exhibition games Crack the Safe has branding options making this exhibition game bespoke for you.
Cash Grabber/Grab a Grand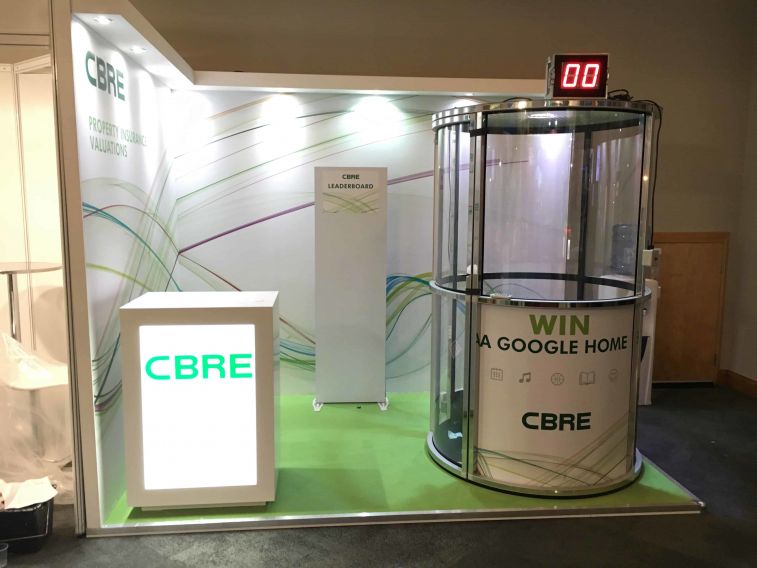 The Cash Grabber/Grab a Grand is a very popular exhibition game. It's visual, eye catching and guests love to take part and also watch others try to collect the tokens. The Cash Grabbers/Grab a Grand machines have had a recent upgrade making them sleeker, perfect for exhibitions. This exhibition game requires around 1m x 2m metres to set up (a larger area is needed to get people in and out of the game) which is incredibly small considering the impact this exhibition game has. If you have the space for the Cash Grabber/Grab a Grand exhibition game I highly recommend it.
The game is played by simply stepping inside and collecting tokens in the allotted time, we usually recommend 30 seconds for an exhibition game. There are different game options available for the Cash Grabber/Grab a Grand when used as an exhibition game just ask the team what you want to achieve and they will be happy to recommend the best option for you.
The Cash Grabber/Grab a Grand has several branding options ranging from front game panels, back game panels, a header around the top of the Cash Grabber, leader board branding and even branded tokens! The Branding options for this exhibition game make it unique for you and your exhibition.
Spin The Wheel Exhibition Game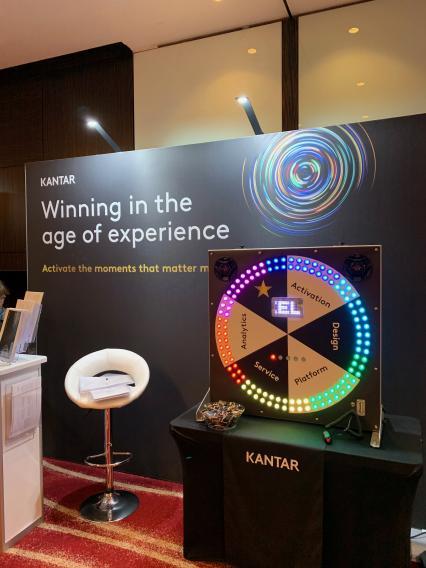 Spin the wheel is an old favourite when it comes to exhibition games. Visitors love to Spin the Wheel especially when there are prizes involved! Our Spin the Wheel hire is a little different to traditional Spin the Wheel games, it's electronic.
Spin the Wheel needs a small area to be set up, around 1.5m x 1m so again it doesn't take up much space at all. This exhibition game is played by pushing a button to start the wheel spinning and pressing the button to make the spinning light slow down and stop. It's a simple but effective exhibition game.
Spin the Wheel has branding options like many of our exhibition games. The whole front panel of the wheel can be bespoke, you can choose how many segments to split the wheel into and design it to fit your requirements which is great if you are giving away prizes.
Batak Exhibition Game
Batak is a reaction game that stands like a wall. It's a firm favourite exhibition game and only requires a small area of your trade stand while making a big impact. Batak hire needs around 2m x 1m to set up.
The Batak has different game options but we recommend the 30 second exhibition game mode for trade stands. Players must strike the lights as fast as they can in the allotted time to accumulate a score. It's quick, challenging and fun, people love to take part and watch others play the Batak game too.
There are branding options for the Batak when used as an exhibition game. The Full backdrop with branded buttons is the most popular as it is a large branding area which makes the game bespoke for you. There is also a half backdrop branding option and leader board branding for this exhibition game.
Mega Buzz Wire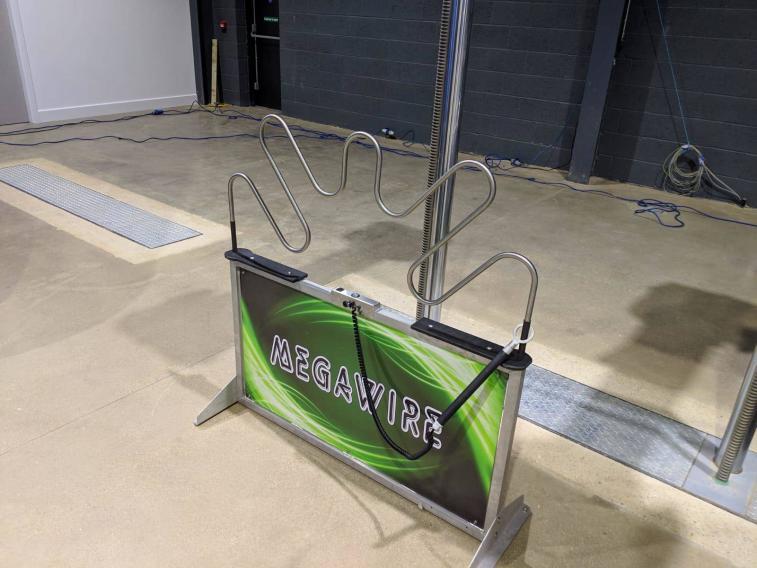 We have different Buzz Wire games but our Mega Buzz Wire is a great choice for an exhibition game. The Mega Buzz Wire requires around a 1m x 0.5m space so it's perfect if you have a very small area available for an exhibition game on your trade stand.
Buzz Wires are simple to play, just pick up the wand and carefully move it along the wire all the way to the end, it sounds easy but the trick is to do it without touching the wire and sounding the alarm. The Mega Buzz Wire can be used in a number of ways, you can limit the number of lives, set a time to get from start to finish or have a one try only rule. It's up to you how you want the exhibition game to work.
The Buzz Wire may take up a small area but when it comes to branding it makes a big impact due to the large panel on display.  The panels on the game can be branded to include your design making this exhibition game bespoke for you.
Sweet Stand/Pick 'n Mix hire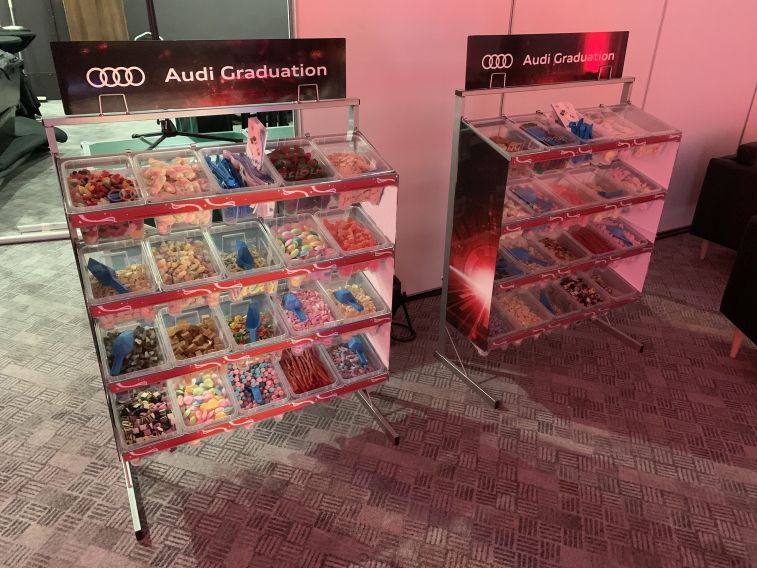 Sweet Stand hire is a great way to attract visitors to your trade stand. Visitors will be drawn in by the tempting sweets on offer. A Sweet Stand isn't quite an exhibition game but it does have a big impact while requiring very little space. The Sweet Stand/Pick n Mix hire needs 1m x 0.5m area to set up so it's one of the smallest exhibition games we have.
The Sweet Stand/Pick n Mix comes fully loaded with a selection of sweets. If you have any dietary requirements we can cater for this too just let us know your requirements when you enquire.
The Sweet Stand/Pick n Mix has several branding options for both the stand and accessories. We can brand your sweet bags and the Sweet Stand itself making it bespoke for your exhibition.
Exhibition Game Round Up
Hiring an exhibition game is a great idea if you want to stand out from the crowd at an exhibition but don't forget these key points, they are crucial in getting it right. Remember…
Target audience
Available space
Branding options for the exhibition game
For more exhibition game ideas why not take a look at our full range of exhibition games or get in touch with the team for further information.