by Lauren Harlin
Christmas Party Season is in full swing and our diary is bursting at the seams with Christmas bookings. Our amazing event team are working day and night to bring Christmas Party Entertainment your way so if you see them at your event make sure you spread the festive cheer and wish them a Merry Christmas! Our incredible event team work hard all year round but Christmas is exceptionally busy and they really do pull out all the stops this time of year to make it special.
Christmas is one of our busiest times of year and 2019 is our busiest on record. You may have seen our Top Ten Christmas Party Ideas blog which featured our Top Ten Christmas Party Entertainment Ideas for 2019. If you did you would have seen activities such as the Dance Machine, LED Air Hockey, LED Foosball Table, Cash Grabber and Selfie Pod Photo Booth. These activities have all been incredibly popular this year, we even added an extra LED Air Hockey Table to our hire range just for Christmas Parties because of high demand!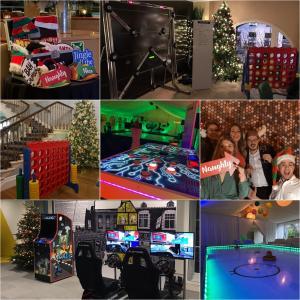 The amazing event team have attended multiple event locations in London in one night over much of the party season, delivering Interactive Games, Photo Booths, Reaction Games, LED Games, Pub Games and more. The team have made sure the delivery, set up and running of activities is a smooth seamless process. As well as games hire in London the team have also been travelling throughout the South East delivering to Kent, Surrey, Sussex, Essex, Hertfordshire, Bedforshire, Cambridgeshire and more.
The busy Christmas Event season really is a team effort. The fantastic office team have worked meticulously planning each and every delivery, they have even managed to squeeze in last minute requests from clients, some with less than 24 hours notice!!
The whole team at Xtreme Vortex have worked incredibly hard to make sure we go that extra mile to deliver the best equipment with the best service for your Christmas Parties.
We have really enjoyed being part of all your Christmas Parties but we needed to make sure we had some fun ourselves too so we even managed to fit in our own Christmas fun, make sure you check out our social media for a sneak peek of our Christmas adventure!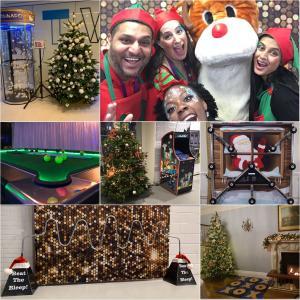 CHRISTMAS OPENING HOURS
Our team work incredibly hard all year round delivering entertainment for events and Christmas time is exceptionally busy. Our offices will be closed over the Christmas period so we can give our team the chance to recharge, spend time with loved ones and enjoy Christmas!
Our office will be closing on Friday 20th December and reopening again in the new year on Monday 6th January. If you have an enquiry during this time please email and we will be in touch when we re open in the new year.
All the team at Xtreme Vortex would like to take this opportunity to thank you for working with us in 2019 and to wish you all a very Merry Christmas and a Happy New Year!