by Lauren Harlin
The last couple of months have been busy, in fact that's an understatement, it's been unbelievably busy! As we head towards Christmas and the New Year it seems like a good opportunity to introduce you to some new products that have secretly sneaked into our activity hire range.
As you know we are always on the look out for new interactive games, activities and entertainment so we can continue to provide you with amazing products for your events. We are blessed to have such a diverse hire range being so we can cater for all types of events such as Corporate Events, Brand Activations, Family Fun Days, Parties, Bar Mitzvahs, Team Building and more.
So let me introduce you to our new activities including the Ballnado Grabber Machine and UV Cash Grabber. These brand new additions are a must for your next event!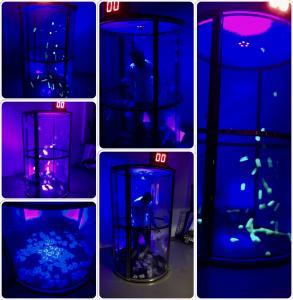 BALLNADO
Ballnado is a variation of the popular Cash Grabber token collector game but with a twist! Once inside the Ballnado a swirling Vortex of air will begin and the balls will whirl around you, get ready to start collecting! Grab as many balls as you can in your 30 second time limit.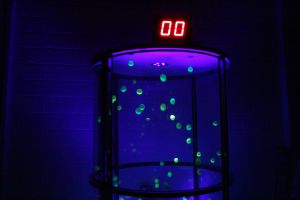 The Ballnado Grabber machine is perfect for almost any event including Exhibitions, Brand Activations, Parties, Team Building and much more! Just like the Cash Grabber, the Ballnado can also be branded with your very own logo/design.
Ballnado Grabber Game Examples
Collect the Balls – Grab as many balls as you can in the time limit and get your name on the scoreboard. Different coloured balls could be worth different point values.
Golden Ball – Include one lucky ball inside the grabber to win an instant prize.
Special Offers – Collect a certain colour ball to receive special offers and prizes.
We hire the Ballnado all around the UK including London, South East, Essex, Kent, Surrey, Sussex and Hertfordshire.
UV CASH GRABBER
If you really want to add the wow factor to your event the UV Cash Grabber is perfect. The UV Cash Grabber is a token collecting game with the same concept as the original Cash Grabbing machine but with added effects of UV lighting and bright florescent tokens which result in a beautiful, glowing machine that's perfect for evening events. Step inside and watch as the UV light makes you glow!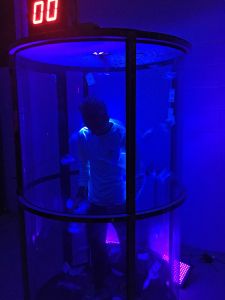 If you are looking for LED games for your event to accompany the UV Cash Grabber we have other UV/LED games available such as LED Foosball, LED Pool, LED Air Hockey and UV Table Tennis.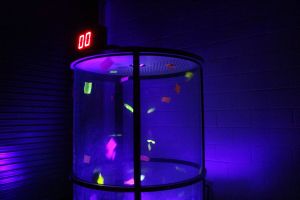 UV Cash Grabber Game Types
Experience the UV version of the classic Cash Grabber Game and play the different game options but with UV lights making it extra special! Below are some game option.
Grab A Grand Machine – Grab as many tokens as you can in the time limit and get your name on the scoreboard.
Golden Ticket – Can you find the golden ticket inside the cash cube for an instant win?
Special Offers and Vouchers – Include special prizes for guests in the cash grabber for instant wins
The UV Cash Grabber is the perfect addition to a UV, LED and Retro themed parties! To experience the full UV glowing effect, it is recommended that the machine is to be placed in a dim/dark environment.
There you have it, two exciting new products that have made their way into our activity hire range just at the end of 2018! Make sure you keep up to date with us in the new year as we have some exciting news to share and to give you a little hint its more new products but we can't reveal anymore until 2019 so watch this space!