by Lauren Harlin
Dance Machine hire is the perfect activity hire for parties and events. Christmas is just around the corner and planning for Christmas Parties is in full swing. Dance Machine Hire should be at the top of your list for your Christmas party, they are for everyone to enjoy.
Dance Machines are now part of our activity hire range for 2019. Our Dance Machines for hire feature arcade style Dance mats and a HD screen to display the dance steps on. Dance Machine hire is perfect for all ages to use and provides hours of non stop entertainment for guests at a party. The Dance Machines are loaded with a great selection of songs to dance to, from pop songs, classic tracks, retro and party favourites to choose from. Simply scroll through the play list, select your favourite and dance the night away!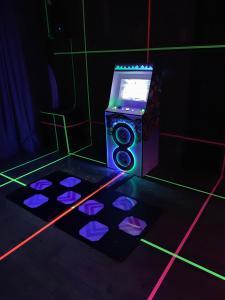 The Dance Machine hire is a one or two player game so you can dance as an individual or with a friend and check out your scores at the end of the track. The Dance Machine difficulty settings are adjustable which is perfect if one player is a Dance Machine expert and the other is a Dance Machine novice, simply select the difficulty setting for each player so one can have beginner dance steps and the other expert dance steps if they can handle it! The steps you need to follow will be displayed on the HD screen just move your feet to the beat of the music and step on the right arrows on the arcade style dance mats.
Dance Machine Hire Features
Individual arcade style dance mats for each player
Player 1 and player 2 can set different difficulty levels while playing the same dance track
HD ready screen display dance step arrows to follow
Great sound system which is volume controlled
LED lights that change pace with the beat of the music
Range of songs to choose from
Silent Disco option available
Silent screen option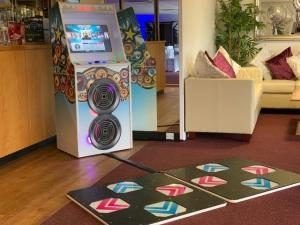 Dance Machine hire provides a great entertainment option, it looks fantastic with LED lights and stylish finish. The LED lights on the Dance Machine pulse to the beat of the music making it the perfect party game. The sound system is impressive and can be volume controlled to suit the noise level of your event, crank up the music of keep it subtle, the choice is yours. The Dance Machine even has a silent screen available should you need a bit of quiet time for announcements or speeches at your party or event.
If Dance Machine hire is on your list for Christmas Party Entertainment you should read our Christmas Party Entertainment Ideas blog for more inspiration and activity ideas for your Christmas Parties.