by Lauren Harlin
Have you planned your Christmas Party Entertainment? If not you need to get planning, Christmas Day is only 63 days away! This festive time of year is the perfect excuse to pull out all the stops and make sure your Christmas Party has some outstanding Entertainment for guests to enjoy. If you need some Christmas Party Entertainment ideas we can help, take a look at our top 5 Christmas Party Entertainment ideas.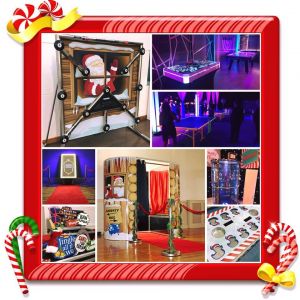 CASH GRABBER
The Cash Grabber is great for Christmas Party Entertainment. This fun, popular game will definitely make you want to reach the top of the leader board. Step inside to the Cash Grabber and see who can collect the most tokens. This Crystal Maze style game can have a Christmas theme which is perfect for any festive event. If you want your own theme or design we also are able to provide your own custom version. If you are interested branding the Cash Grabber get in touch for further details.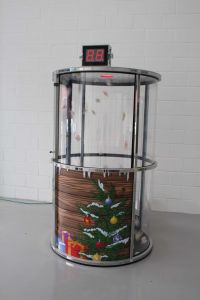 The three most popular Cash Grabber game choices for Christmas Party Entertainment is:
Grab A Grand Machine –Grab as many tokens as you can in the time limit and get your name on the scoreboard.
Golden Ticket – Can you find the golden ticket inside the cash cube for an instant win?
Special Offers and Vouchers – Include special prizes for guests in the cash grabber for instant wins
PHOTO BOOTHS
Photobooths are always a favourite for Christmas Party Entertainment, guests can strike a pose and use the funny props to make memories last a lifetime. We have a variety of Photo Booths which are perfect for Christmas Party Entertainment:
Classic Photo Booth
Green Screen Photo Booth
Digital and Social Media Photo Booth
Magic Selfie Mirror Photo Booth
Video Booth
Christmas Themed Photo Booth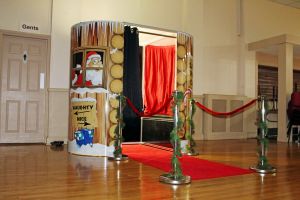 For your Christmas Party Entertainment why not go all out and book one of our Christmas Photo Booths. The package includes:
Choice of Photo Booth Skins, we even have a Christmas log cabin theme perfect for Christmas Party Entertainment
Unlimited prints
Over 1000 different photo options
Option to have a custom background on your photos (logo, theme, product etc)
Prop box filled with our usual fun goodies and some extra special Christmassy props, perfect for Christmas Party Entertainment
Booth attendant to assist guests and provide any re prints
Free digital copies sent to you after the event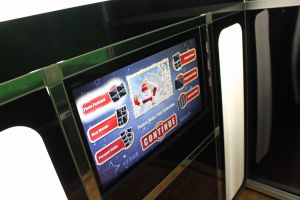 BATAK
For Christmas this year, test your reactions and compete with your friends and family with our Christmas Edition Batak Reaction Game. This fast-paced game is perfect for Christmas Party Entertainment. We have 32 different game options available for the Batak so you will be able to find the perfect one for your Christmas Party. Take a look below to see what Christmas games we have available:
Santa's Christmas Delivery – Test your reactions and help Santa deliver his presents. You have 30 seconds to strike as many lights as you can, each light struck is another present delivered. Can you deliver the most presents and get to the top of the leaderboard?
Snowball Frenzy – Whip up a snowstorm and hit 50 snowballs as quick as you can! Can you hit all 50 in under 100 seconds?
The Batak is a one player game but we do have two Bataks for Hire so if you want to go head to head you can. If you were looking for a two player reaction game, why not consider and take a look at our Neuron Race Reaction game.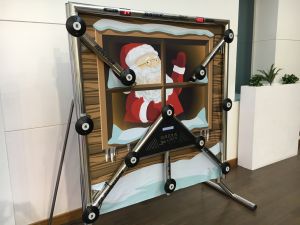 NEURON RACE REACTION GAME
The Neuron Race Reaction game is a two player game. The game is visual and always draws in a crowd. It's perfect for Christmas Party Entertainment and looks great when lit up with the LED lights. The Neuron Race is a popular LED Game for Hire and can be hired on its own or with other LED Games making a perfect package for Christmas Party Entertainment. If you like the sound of LED Games and UV Games for your Christmas Party Entertainment keep reading!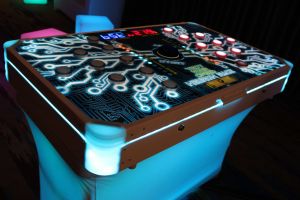 UV & LED PUB GAMES
UV & LED Pub Games is high on the list for Christmas Party Entertainment, they always bring an some extra fun and a festive vibe to your event. We have a wide range of LED games for hire, take a look at the different options below.
UV (Ultra Violet) Table Tennis – UV Table Tennis is not an average game of Table Tennis; the amazing lighting and glowing tables change the game completely and will add a wow factor to your Christmas Party Entertainment. You will need a nice dark spot for the UV Table Tennis to be set up in for the lighting to take full effect. This is perfect for Christmas Parties.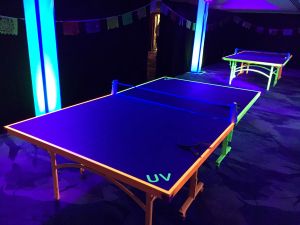 LED Air Hockey – The LED Air Hockey includes LED lights all around and underneath the table to give an amazing glowing appearance, perfect for Christmas Party Entertainment. This looks great at any time of day; however, the LED lights take full effect during a dark space. The LED lights on the LED Air Hockey can be a range of colours so if you have a theme you can choose a colour to fit! Why not choose red or green to be festive for this years Christmas Party?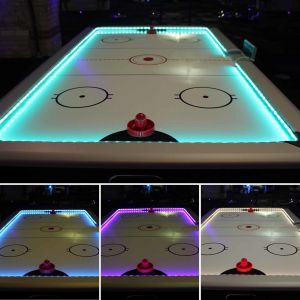 LED Foosball Table – The Foosball Table looks incredible when lit up with LED's, it's very popular for Christmas Party Entertainment. The LED Foosball Table will offer your guests hours of entertainment.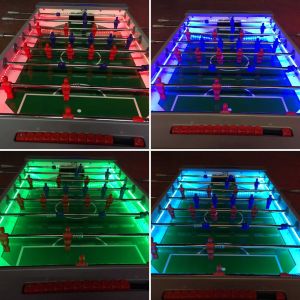 LED Pool Table – a Pool Table always goes down well at Christmas Parties but our LED Pool Table for Hire is even better for your Christmas Party Entertainment. The 7ft LED Pool Table works great alongside the other LED Table Games.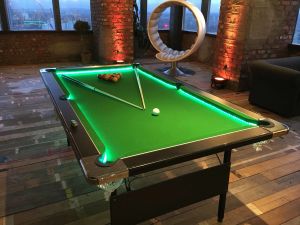 These Top 5 Christmas Party Entertainment Ideas will make sure your Christmas Party is filled with fun. If you need help with your Christmas Party entertainment get in contact and our team will be happy to help.